Mel was one of the first bloggers I really connected with. Not only is so super sweet, she is beyond talented in the art of turning trash into treasure.
You don't have to take my word for it, check out some of her creations:
Now if only I could get her to move to AZ....
------------------------------------------
Hi, I'm Mel from
Junkin' Junky
. I'm going to share with you, a few things that I can't live without. Thank you Patience, for inviting me to your series.
I'm sure I could live without these, but why would I want to :)
Coffee! Oh how I love thee. I'm positive that I drink way too much. It starts my day and gets me through the morning. The darker, the better.
My Cricut and Sure Cuts A Lot software. They have opened up a whole new world of crafting and home decor.
The recycle centre. I am fortunate to have one a few blocks away. I stop in at least once a week to see what is on the shelves. I have saved a ton of money by using paint that others drop off there. Not only do I get paint; household cleaning products, batteries, spray paint, shampoo, motor oil. ALL FOR FREE! I love me some free :)
My camera! I take a ton of pictures. I'm embarrassed to say that I rarely print them. I learned my lesson the hard way when I lost so many to a hard drive crash. Now I have an external hard drive that I back up to once a month. At the same time, I back up my blog too. If you are not already doing this, you really should.
Nail clippers! I can't stand long nails. I know, what woman doesn't love long beautiful nails? Well, me :) I love the look of beautifully manicured nails, but I don't like not being able to feel with my fingertips. Call me weird.
These are all just things. The real things I can't live without are my children, my friends, my family and my well being.
~~~~~~~~~~~~~~~~~~~~~~~~~~~~~~~~
Thank you so much Mel for sharing!!! Don't forget to head on over to
Junkin' Junky
!!! I'm telling you, her craftiness is ridiculous! She also is the host of a sweet linky party every saturday.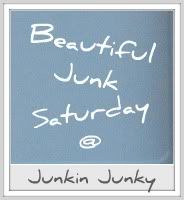 xo,
Patience