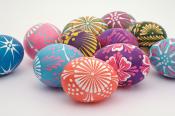 I can't contain my excitement!!! I love our family traditions, complete with Easter egg hunting, baskets and of course a family meal! It also has me thinking about beautiful pastels, lots of flowers, and what else, sunshine!
Here are some delicious rooms that have me in a festive spirit.
Seriously obsessing over wallpaper right now....Josh is lucky our walls have so much texture....or it would be project time!!
xoxo,
Patience